Nationwide Suspended Ceilings Specialists
Quality suspended ceilings across the U.K including Surrey and south west London
Suspended ceilings are a popular choice for business and home improvers all over the country.
Also known as hanging ceilings, drop ceilings or false ceilings, they are suspended from a building's main structural ceiling, leaving a small cavity between the two.
The suspended ceiling can then be removed from its mount in order to access this cavity for any servicing or maintenance requirements.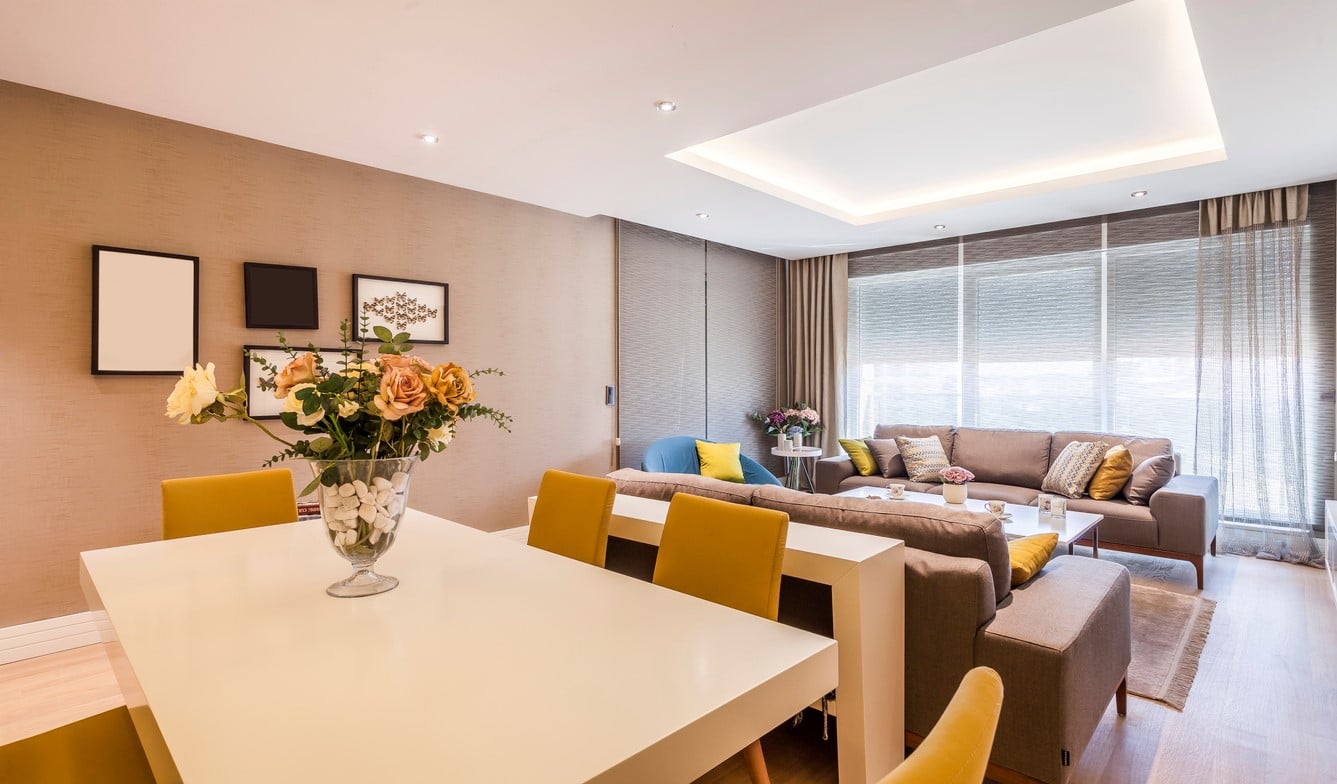 A choice of suspended ceiling solutions
Here at A B Ceilings, we provide a selection of suspended ceiling solutions for our customers across Surrey and South West London. These include:
• Grid and tile ceiling systems - quick to install, allowing instant access to the ceiling cavity by pushing the tile from below
• Metal frame ceiling systems - composed of plasterboard panels and a metal framework, allowing for tremendous versatility in their design and application
Lighting
There are many situations, such as offices, kitchens or bathrooms, where a hanging a light fitting from a ceiling is neither practical nor appealing. With a suspended ceiling, lights can be incorporated at the design stage. Whether you intend to use a single, central light, or a number of spotlights, the choice is yours.
Speakers
As with lighting, audio speakers can also be combined into your suspended ceiling. This is a great option for commercial premises - retail or hospitality - and can also be utilised by homeowners looking to create a built-in, room-to-room sound system.
Heating and air-conditioning
Whether it is in the home or workplace, heating pipes and air-conditioning apparatus are not an attractive sight – so why not conceal them with a suspended ceiling? By including them within the ceiling cavity, only the vents themselves and the rush of warm or cold air will give away their presence.
Neat and tidy
While there's nothing stopping you from wiring up all of the above and attaching them to the structural ceiling of your property or premises, every light, speaker and camera will leave a trail of wires stretching along the ceiling and down the walls. With a suspended ceiling, all wires, pipes and cables are artfully hidden in the ceiling cavity, not only enhancing the look of your refurbished room, but also removing potential trip hazards and other dangers.
Noise reduction
Suspended ceilings have the potential to aid noise reduction through the use of materials such as sound block plasterboard.
Energy efficient
Insulation can also be laid above the suspended ceiling giving a double benefit – adding warmth and reducing energy bills.
A modern look
Aesthetics are everything when designing a room. As practical as a suspended ceiling might be, it also looks fantastic. With a variety of designs available, you are guaranteed a finished product that looks beautiful and modern - an ideal addition to any home or business.
Only the best
A B Ceilings' workmanship is matched only by the quality of the products we use. We work with the best companies in the business using superior materials such as: Armstrong Dune Tiles; AMF Fire Stratos; or satin spar – which is ideal for kitchens and bakeries.
What happens next
Give us a call and we can then arrange a FREE consultation. We will then provide you with a FREE, no-obligation quote.
Your home or business, will benefit from a new suspended ceiling. Call A B Ceilings today on 01737 333 337 or 07774 162 012 and see what we can do for you. We won't be beaten on price!